Sporovi u kulturi
8. avgust
Sporovi u kulturi / Dimitrije Vujadinovi─ç bio je gost Radio Beograda 2, emisije Sporovi u kulturi. Tema razgovora je bila Strategija kulturnog razvoja Srbije.
Festival of Poetry - Snap out of it
Belgrade, from 11 to 15 May
Eating POETRY - exhibition and tasting of dishes inspired by poetry. Balkankult was preparing several dishes inspired by poetry. A jury of poets has selected two of our dishes for the most delicious.
  
Rudnici kulture
Projekat Rudnici kulture nastavlja sa radom. Skup┼ítinu Regionalne suradničke platforme RUDNICI KULTURE,odr┼żaće se u Labinu u subotu, 11.06.2016. (http://www.rudnicikulture.com/about-2/)
Gost BKF rezidencijalnog centra
Pesnik Alessandro Salvi gost je rezidencijalnog centra na Fruškoj gori.

Veliki uspeh projekta - Hleb kulturna baština
Sa velikim uspehom dor┼żana je Izlo┼żba Hleb u Velikom ratu odr┼żana je u Domu vojske u Beogradu. vi┼íe http://www.breadculture.net/

Nova knjiga - LIČNI STAV, Zapisi o kulturnoj politici
Nije retko da se u javnosti postavi pitanje ÔÇô ko je to intelektualac? ┼áta to uop┼íte znači? Mnogo je odgovora na ovo pitanje, nekada i sasvim suprotnih. Ja se pridru┼żujem svima onima koji u intelektualcu prepoznaju kritičkog (humanističkog) mislioca, koji stiče znanje i iskustvo i koji ima dovoljno smelosti da svoje mi┼íljenje iznese javno. Znači, nije va┼żno koje je profesije osoba, već način na koji razmi┼ílja i promi┼ílja sebe i dru┼ítvene fenomene. I svakako, ┼żivi u skladu sa svojim zalaganjem.
Upravo takav stav je i mene rukovodio da u poslednjih petnaestak godina, s vremena na vreme, u zavisnosti od konkretnih povoda, objavljujem u ┼ítampanim medijima komentare o kulturnoj politici u Srbiji. Moja tema je makro kulturna politika ÔÇô definisanje ciljeva, prioriteta, instrumenata i vremenskih rokova. Potpuno sam svestan da to nije tema koja mo┼że da fascinira ┼íiru javnost. Međutim, bez jasne kulturne politike i moralnih normi kulturnog obrazca - nema kulture, a bez kulture za čoveka nema ┼żivota.
Izbor objavljenih tekstova od 2001. do 2005. godine publikovan je ranije u knjizi pod nazivom ÔÇô ÔÇ×Deveti milenijumski ciljÔÇť.
Od 2005. do 2010. i dalje sam objavljivao tekstove, ali, realno, malo toga se promenilo u kulturnom ┼żivotu u Srbiji, izuzev dono┼íenja Zakona o kulturi. To je i razlog za┼íto je u ovoj publikaciji izabrano samo nekoliko tekstova iz toga perioda.
Fenomeni i događaji u kulturnoj politici i ┼íirem dru┼ítvenom kontekstu kulturne produkcije uslo┼żnjavaju se i ubrzavaju poslednjih pet godina. To je, svakako, bio i osnovni motiv da učestalije objavljujem tekstove. Izbor novinskih komentara koji su objavljeni u tom periodu čini i prete┼żnu sadr┼żinu ove publikacije. Slo┼żeni u publikaciju , bez naknadnih izmena i hronolo┼íki razvrstani, kao celina dobijaju dodatni značaj. To mi se čini kao ona narodna priča u kojoj otac podučava sinove o značaju jedinstva dajući im da slome jedan prut, a zatim snop svezanih pruteva.
Svakako, prilikom pisanja novinskih komentara imao sam u vidu ciljnu grupu koja čita takve tekstove. Nisu to ÔÇ×stručniÔÇť radovi, koji za sve one koji se usko ne bave kulturnom politikom mogu biti i malo dosadni, njih sam objavljivao u nekim drugim domaćim i stranim publikacijama.
Izabrani tekstovi nastali su kao moja reakcija na konkretan, tada aktuelni fenomen ili događaj. To, ujedno, znači da su različiti po sadr┼żaju, obimu i dubini zadiranja u problematiku. Neke od navedenih ličnosti u međuvremenu su izgubile javnu funkciju na kojoj su bile, ali su┼ítina fenomena je i dalje aktuelna. U nekoliko objavljenih komentara ima i ponavljanja određenih stavova. Verujem da se isčitavanjem ovih tekstova jasno mo┼że zaključiti moj odnos prema događanjima u kulturnoj politici u Srbiji, odnosno koji kulturni obrazac podr┼żavam i za koju kulturnu politiku se zala┼żem, kao i kojim instrumentima se do takvog modela mo┼że stići.
Sećam se američkog filma koji nosi naziv ÔÇô ÔÇ×┼áta si radio u ratu tataÔÇť? Moguće je da će jednoga dana i mene moj sin (i njegova generacija) pitati - ┼íta si to radio i za ┼íta si se zalagao u te┼íkom vremenu odluka za budućnost srpskog (i ne samo srpskog) dru┼ítva? Nadam se da će im ova knjiga pru┼żiti, makar delimičan, odgovor.
Na┼żalost, kvalitetni tekstovi o kulturnoj politici, koja je temelj kulturnog ┼żivota savremenog dru┼ítva, izuzetno su retki u na┼íim medijima. Zato ┼żelim da se zahvalim urednicima rubrika dnevnih novina i nedeljnika koji su moje tekstove smatrali dovoljno dobrim da ih objave. Posebno se zahvaljujem zameniku glavnog i odgovornog urednika lista ÔÇ×DanasÔÇť, gospodinu Zdravku Huberu, koji je poslednjih godina objavio većinu tekstova sadr┼żanih u ovoj publikaciji.
Dimitrije Vujadinović
Personal attitude - Notes on cultural policy in Serbia
New publication
Phenomena and events in the cultural policy and the broader social context of cultural production become more complex and accelerate in the past five years. It was my main motive to frequently publish articles in the magazines and daily newspapers. Selected texts are written as my reaction to concrete events or phenomenon in culture life in Serbia. It also, means that they are different in content, scope and depth of the encroachment of the problems.
Dimitrije Vujadinovic
Exhibition opened in Boljevac and Aleksinac
Mines of Culture
Boljevac, 15/18, Aleksinac, 20/24 November
The exhibition in Boljevac and Aleksinac was opened by Dimitrije Vujadinović in the presence of many visitors.
Boljevac Aleksinac
Bread in the Great War - Hleb u Velikom ratu
Exhibition Bread in the Great War consists of 21 panels (70 x 100 cm) and three LCD screens with documentary photos and testimonies of participants. The aim of the author, Dimitrije Vujadinovic is not only to show the importance of bread as food, but also the wonder of bread as living treasures of collective memory and testimony about the ethical and symbolic values ​​and falls of humans in the most difficult existential conditions, such as the war. With this exhibition, we show that in every war winners and defeaters are losers. In this sense, the exhibition has an anti-war message!
The exhibition "Mines of culture":
The exhibition "Mines culture": Idrija, 27.10.- 01:11. / Nova Gallery (DDT), Trbovlje, 03.-08.11. / Boljevac, 14 to 18:11. / Aleksinac, 20.- 24.11. / Mojkovac, 26.-30.11. / Banovici, 02.-06.12. /Prijedor 08.- 13:12
Dimitrije Vujadinovic, Interwie
The DrAIN Of The SceNe
Creative platforms ÔÇô learning from each other
Creative platforms ÔÇô learning from each other - Representative of Balkankult attended the expert meeting, held on 24 September in organization Ministry of Finance and Economy. Meeting was attended by ten representatives of organization from Serbia and experts from Austria and Germany.
Reinhard Doubrawa, artist from Germany in BKF Residency
Talking with people from different disciplines (technicians, architects, artists, writers,...) with different perspectives. That project that could build a new view onto locality in a global relation (... under global pressure). More ...
Donau ÔÇô Kulturstra├če - Ulm, 15/09-25/11
Exlibris f├╝r einen interkulturellen Dialog
Donauschw├Ąbisches Zentralmuseum - Ulm, 15. September 2012 /More...
Interview - Nordic Inspiration
Cordmagazine, 12.03.2012.
Dimitrije Vujadinovic, Director Balkankult Foundation ...
CULTURE FLOWS ALONG THE DANUBE
Draft program prepared by the Balkankult Foundation
Danube Fest Ulm

Ulm
6-15. 07. 2012
Microresidence Research Analysis
August-October 2011 Youkobo Art Space
Youkobo sent out a survey to 160 different residence programs across the world which we felt may correspond with the term ÔÇťMicroresidenceÔÇŁ. The intention of this survey was to gain an insight into the range of small scale independent residence programs being facilitated world wide, the kind of support they offer to artists, the emphasis of their programs, their organization and vision towards a proposed ÔÇťmicroresidence networkÔÇŁ.
Folk culture and cultural policy of Serbia
On 10 November 2011 a panel discussion was held on the topic Folk culture and cultural policy of Serbia in the National Theater in Belgrade. The roundtable was organized as part of project The preservation of folk heritage and cultural policy of Serbia, implemented by the associates of the Balkankult Foundation for the purposes of the Ministry of Culture.
The following topics were discussed:
ÔÇó Overall situation of folk culture in Serbia
ÔÇó Review of the system of institutions dealing with the protection and preservation of folk culture and exploring possibilities to improve it
ÔÇó Political discourse
ÔÇó Preservation and/or development
ÔÇó Sector or inter-sector approach ÔÇô does Serbia have a special cultural policy in this area?
ÔÇó How to maintain viability of folk culture
ÔÇó Folk culture and education system
ÔÇó Amateurism and/or professionalism
ÔÇó Management issues
ÔÇó Industrialization of folk culture (creative industries/sectors)
ÔÇó How to establish links between heritage and economic potentials of tourism, food and drinks industry, festival culture?
ÔÇó How do private and independent initiatives function ÔÇô review of various successful experiences and examples
ÔÇó Priorities that can be realistically achieved?
ÔÇó Stimulation tools: tax policy, subsidies and other incentives.
ÔÇó International legal instruments
The discussions were fruitful and constructive. Observations, comments and proposals advanced by participants will be presented in the research materials.
Key note speaker: Milo┼í Đurković, Ph.D. philosophy (Institute of European Studies), Dimitrije Vujadinović, moderator, cultural practitioner (Balkankult Foundation) and Milica Radenković, coordinator, cultural practitioner (Balkankult Foundation).
The participants of the round table included: Prof. Dr Vesna Marjanović, ethnologist (Ethnographic Museum); Sa┼ía Pančić, painter; Vesna Jokanović, economist (Ministry of Culture); Branko Krasojević, tourist specialist; Vesna Bogunović, cultural practitioner; Neboj┼ía Milikić, Rex; Oliver Đordjević, editor of magazine ÔÇťEtnoumljeÔÇŁ; dr Jelena Jovanović, ethno-musicologist; Dragan Pantelić, art director of private Cultural/Art Society ÔÇô Talija; Jasmina Milojević, ethno-musicologist; Ivan Zlatković, M.A., Civil Association ÔÇťHeritage and Future ÔÇô Aranđelovac 1859ÔÇť ; Dragana Stojanović, lecturer at High School for Professional Studies for Educators in Kikinda, Traditional Dances Educator: Gordana Đerić, senior adviser of the Institute for European Studies: Kristina Planjanin Simić, High School for Professional Studies for Educators in Kikinda: Slobodan Balać, High School for Professional Studies for Educators in Kikinda.
Regensburg Symposium - Art and Culture in the Danube Region, Donumenta 2011
Dimitrije Vujadinović, has participated at the International Symposium for Art and Culture in the Danube Region, Donumenta 2011 ÔÇô Serbia: Danube ÔÇô Where to? ÔÇô A cradle of European Culture and its Future. The symposium took place under the patronage of the Bavarian Minister President Horst Seehofer from October 20-22 in Regensburg, Germany.
The symposium was organized by the Donumenta network from Regensburg. The general impression of participants is that it was a well organized and successful meeting. Along with quality speeches and fruitful discussions, many direct contacts have been established which will surely lead to concrete cooperation. The representative of the Balkankult Foundation is satisfied with his participation and direct contacts that were established.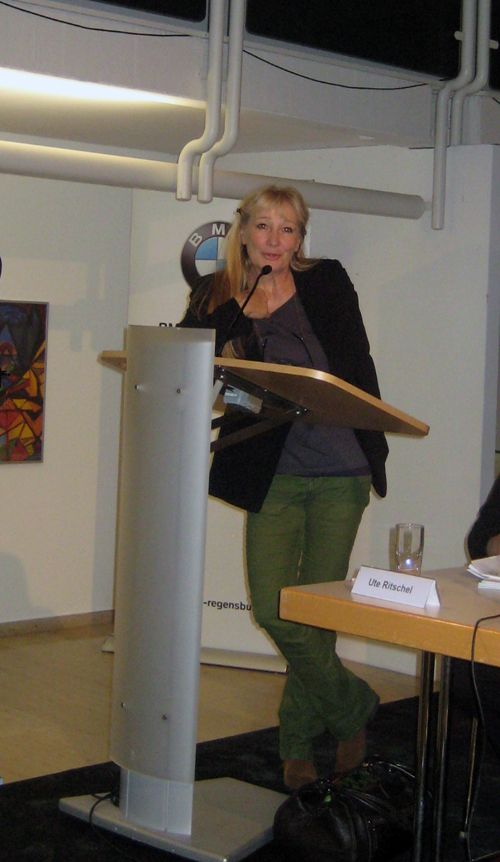 In memorian - Prof. Dr Dragan Klaic
We lost our good cologue and great expert for cultural policies Prof. Dr Dragan Klaic! Condoleances to his family, to all of us, as European cultural activism had lost one of its most prominent figures.

SEVENTY MILLION YEARS OF MOUNT FRUSKA GORA
On June 6, in the famous Belgrade gallery "Ozone", Dimitrije Vujadinovic held a presentation -
Traveling through Fruska Gora from the Time of the Tethys Ocean to Today
.
Revealing of Fruska Gora's secrets, true natural, spiritual and cultural values: the natural blending into the Danube, the Tisa delta and the lower Sava; unique paleontological biodiversity; broken mountain massifs; ecological phenomena; the center of Serbian spirituality; a wine haven.
Donation of the Balkankult Foundation
The Balkankult Foundation has gifted 80 books, Roman glass, glass paste and gagat bracelets in Lower Panonia, by Svetlana Saranovic Sveta published by the Balkankult Foundation. This event took place at the annual meeting of the Archaeological Society of Serbia at the National Museum in Kraljevo on the 28th and 29th.
Intervju - Dimitrije Vujadinovic
Actavis Srbija